Erosion & Sediment Control Plan (ESCP) Coordination
The Erosion Sediment Control Plan (ESCP) Coordinator is the person responsible for observing the erosion control components of your project and reporting back to the permit authorities as required by law.
At Owner Built Design, we provide the ESCP drawings as part of our design and drafting fee. However, the role of ESCP Coordinator occurs during the construction process so we also offer our ESCP Coordination services as a month to month option.
Example Erosion Sediment Control Site Plan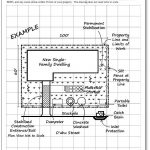 After your building permit is issued, we use your  ESCP Documentation to conduct site visit observations. This documentation was created for you and approved during the building permit processing phase. With that information in hand we're able to observe the condition of your site for compliance. A monthly record is kept of this to record the erosion and sediment control of your project.
A monthly site visit is required to check conformity with your ESCP documents.
After construction is complete, we provide you with the Stormwater clearance letter. This letter is required by the Department of Planning and Permitting during the construction close out process
Erosion Sediment Control Coordinator: FAQs
How soon before construction begins should I enroll in your services?
The Department of Planning and Permitting requires you to notify your ESCP Coordinator at least two weeks prior to construction. This is when we recommend that you enroll as well. This is necessary so that we have time to schedule our initial observation visit in compliance prior to your construction start date.
Are appointments needed for you to conduct your monthly observation visits?
No, you do not need to be present for us to conduct our monthly visits.
How many months will I need to subscribe to this service?
This is a month to month enrollment. There is no contract to sign. You will be billed every month until you cancel your subscription. The duration of your construction project will determine the number of months you'll need to stay subscribed.
Can I change my Erosion Sediment Control Coordinator later?
Yes, this can be done by submitting a form to DPP and cancelling your subscription with us.
For more information on ESCP topics click here to read our blog posts on the topic of Erosion and Sediment Control.
View Our ESCP Coordinator Pricing Options based on your project type and size.
To summarize, if you are a homeowner or contractor in Hawaii in need of residential design, swimming pool design or drafting services, then we at Owner Built Deign are here to help. We have over 30 years of experience helping our clients with all aspects of their residential projects, from the initial design and planning stages all the way through to permitting and ESCP coordination during construction . So whether you need help with your home's floor plan or want to add a beautiful pool to your property, we have the knowledge and expertise to make your vision a reality.
0 comments

Copyright secured by Digiprove