Foundation erosion is a common problem in Hawaii.
For a number of reasons, not the least of which are rising sea levels and frequent flash floods. Whether your property is beachfront or inland, and no matter which island you live on, foundation erosion is one of the most devastating things that can happen to your home — and many homeowners don't even know it.
Fortunately, there are a number of preventative actions that you can take to protect your home. The following are some proven methods to prevent foundation erosion; take note of them today to avoid tragedy tomorrow.
Maintain Your Drainage System
Keep an eye on your gutters and downspouts and remove any blockages that might prevent proper water drainage. Rainwater should always drain away from your house so that the soil under your foundation remains firmly in place. If you suspect that your gutters are undersized for the home, have an expert look at them. You may need to replace them.
Fix Cracks Immediately
Repair any cracks in your home's foundation immediately. Cracks will allow water to seep into the inside of your home's foundation, eroding it more quickly; additionally, internal deterioration will be harder to detect until it's too late.
Plant Wisely
Certain types of grasses and bushes can more effectively hold soil in place. You may also need to use a special type of compost if your soil is sandy. Even so, using plants to protect your foundation from erosion is often cost-effective and cost-efficient.  It can also be aesthetically pleasing.
What If I've Already Noticed Erosion?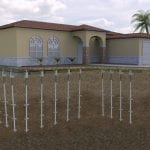 Many foundation erosion problems can be repaired using micropiles. Micropiles are created by drilling a hole into the soil, inserting a strong bar or pipe, and filling the hole with grout. These holes can be anywhere from two to eight inches wide depending on the size of the property and the damage incurred. A good foundation repair contractor will use micropile technology in conjunction with other foundation repair techniques (such as slab leveling, slope stabilization and tieback anchors).
However, if your home has serious foundation erosion problems, you may need to consider "amputating" a portion of your house and replacing the foundation to protect the rest from further damage. Of course, this is a last resort that should only be done in consultation with an expert, as it's expensive and time-consuming to remove and rebuild a portion of your home.
Foundation erosion can cause significant damage. Therefore, it's in your best interest to do everything possible to prevent erosion on your property. Planting the right vegetation, maintaining your gutters and drainage system, and regularly inspecting your foundation for cracks can prevent headaches and hardship.
At the same time, discovering signs of potential foundation erosion doesn't mean you've lost your house. Seal the cracks and establish sturdy erosion control barriers (such as concrete pavers or liners). Then talk to an expert to see what type of foundation repair is in order to prevent more home damage.

Copyright secured by Digiprove