AD: Transform your property into a productive
homestead
with custom designs from Food Forest Abundance.
Hawaii Residential Design
Whether you're constructing a new home or building onto your current one in Hawaii, residential design is no small task to undertake. However, it is one of the most rewarding in the world.
We can agree our state is such a legendarily beautiful place to live. So it's only natural for each resident homeowner to also accept their role as a steward of the land. You're not only building a home for yourself and family, you're also taking care of the land your home is built on.
Additionally, you're probably wanting to defining the unique style of your personal home and finishing the project to your ultimate satisfaction. These are admirable goals that will soon lead you to the home, renovation, or addition of your dreams.
But Hawaiian residential construction projects are much more complex than it seems from the outside. So, we're going to walk you through a comprehensive outline. In fact, here's what you'll gain from this guide:
You'll know what you need to think about.
Have a clear understanding of what to take care of.
Everything you must know before beginning a new construction or renovation project involving your Hawaii home.
Know Your Building Permit Requirements
Now, you may already have a vision of your plans and a few conceptual sketches. However, it' important to understand the Hawaii residential building guidelines before you solidify any plans.
Hawaii, understandably, is very strict about how you use the land and in ensuring the safety of whatever you choose to construct. So it's important to make sure your plans will qualify for all the right building permits. You'll want to study what those building permit requirements are first.
Let's take a look at the building permit basics you'll want to cover during the early planning phase:
Construction and Renovation
Building permits are needed for both new constructions and home renovations, not just building a new house. This applies to simple projects such as building a new shed or ADU in the yard. Or, of course, larger ones like expanding your home or building an entirely new custom Hawaiian house. Regardless, you'll need to draft the plans and have those plans approved for permits.
Building, Plumbing, and Electrical Permits
It's also important to know that 'building permits' are often handled as one thing, but really there are three different sets of permits plus the erosion and sediment control plan.
First, you need an actual building permit. This will be approved if the structure of your building plans is safe. As in, it won't fall on anyone and will be sufficiently secure and weatherproof for a family home.
Second, you'll need an electrical permit for any wiring you plan to do in the constructed space. This means already knowing how you will do the wiring. You'll also need this permit even if you are only altering existing wiring. This is because the state of Hawaii doesn't want anyone getting electrocuted by DIY wiring. If you're only changing wiring, you may only need an electrical permit.
Third, you'll need a plumbing permit if your changes include pipes, water features, or altering your current plumbing infrastructure. Plumbing permits are important not just for preventing leaks, but also for ensuring that sewage and drains are handled in a way that is safe for the residents, neighborhood, and the island itself. If you are only changing plumbing, you may only need a plumbing permit.
Erosion and Sediment Control Plan
Because we live on islands that are constantly growing from magma and eroding into the sea, it's vital to control erosion and sediment spillover for every single property. In fact, your construction plan needs to carefully control the amount of ground you disturb, the final grade of the lot, and how erosion will function when you're done.
In other words, you need a mostly flat lot that ensures no erosion using smart landscaping and installing retaining walls if necessary. When your erosion and sediment control plan is approved, you can finally begin breaking ground.
Ecological Responsibility
Last, but not least, is ecological responsibility. Every state, including Hawaii, has specific rules about which plants you can and can't use in your landscaping plans. There are some species of plant that can be very harmful to the islands if imported or simply planted irresponsibly. You may or may not need special permission for your gardening plans. However, always be ecologically conscious none-the-less to take care of our beautiful island eco-system.
Choose Your Style of Home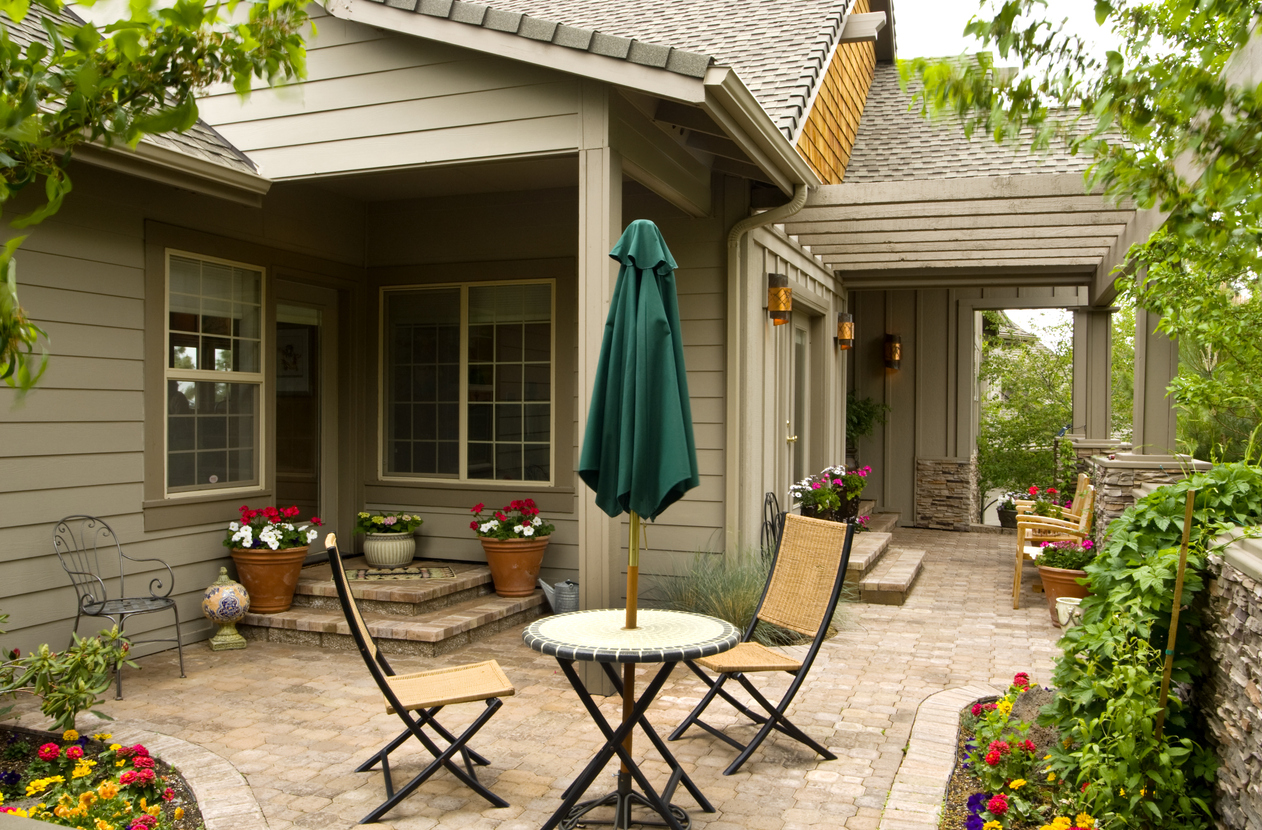 Now that you're familiar with the technical requirements of your project, you can go back to enthusing about your Hawaii home design vision. There are so many ways to design a heart-warming Hawaiian home' from super-modern steel and glass to the thatch-roofed hales of ancient Hawaiian tradition.
Naturally, most residential Hawaiian homes fall comfortably somewhere in between.
There are four styles of home most commonly seen in Hawaii:
Plantation
International
Mission
Renaissance
There's a vast majority of non-millionaire homes being closest to plantation style, but don't let that limit you. As a custom home builder or someone renovating their own home, you can decide on any style you want within the building-permit guidelines.
For smaller projects, you can get plumbing and electrical permits separately if that is all you will be affecting. Larger projects usually need all three types of permits to move forward.
In fact, the fifth most common type of house in Hawaii are custom homes. These are completely unique and reflect the personalities of the wonderfully diverse homeowners of the island.
Actually, the longer a home has been in the family, the more likely it is to resemble something special and unseen anywhere else because each generation makes their own changes, improvements, and decorations.
Local Hawaiian Design Features
Do you know the best way to customize your home? It's to leave behind the customs of the mainland for more local Hawaiian home design traditions instead!
Hawaii is considered a little slice of heaven in the middle of the Pacific. This is partly due to locals always knowing how to best enjoy the uniquely gorgeous climate.
Whether you're native Hawaiian or simply never plan to leave, any one of these local Hawaiian home trends could be perfect for your next project:
Open-Air Living Designs
If you don't feel the need for AC running 100% of the time, then you have every reason to consider open-air living. This style of Hawaiian design includes walls that have wide openings onto your Lanai or patio. The breeze blows freely through your home and the open flow design is very welcoming for both family and guests.
You can do this with covered Lanai, sliding glass doors, or folding shutter walls for a delightful indoor-outdoor Hawaiian lifestyle.
Lanai Family Decks
If your home doesn't already have a lanai (or your family has outgrown yours), this is also a great Hawaiian design tradition to continue. Unlike a normal deck, a Lanai is built wide and open to accommodate regular family gatherings of traditionally large extended Hawaiian families. Lanai can be covered or not, open-air or enclosed.
But ultimately, you and your family can sit, eat, and talk together while enjoying the Hawaiian sunshine and the fragrant island sea breezes.
Ohana and ADU Houses
Because so many people want to live on our islands (and it's such a great place to raise children), Hawaii is constantly experiencing a housing shortage. Our best solution is simply to invite more family to live on existing home lots using ADUs and Ohanas.
ADUs are essentially tiny additional houses built in your hard, above your garage, or as extensions of your current home. In addition to added space for the family, they can also serve as rental properties. While Ohanas can be larger, they can only be used for house relatives (not renters).
Getting Approval for Your Building Plan
Once you have made all the major design decisions, it's time to draft your plan. And we don't just mean doodling your vision on a piece of graph paper!
In order to get those building permits you'll need to begin work, you'll need a comprehensive draft along with all the necessary paperwork, and then to push it through the bureaucratic approval process.
Fortunately, you don't have to do this part on your own.
Drafting a Comprehensive Building Plan
First, you'll need a comprehensive building plan. This detailed drawing will show everything from your total disturbed area to the electrical wiring in the walls of your final product.
The best way to get this done is to work with an experienced custom home design team like Owner Built Design. We can help you translate your vision into a realistic building plan. The design will perfectly reflect your goals and meet all the necessary building permit requirements.
Sign-Off from an Architect or Structural Engineer
In some cases, you may need an additional sign-off from an architect or structural engineer. This is particularly the case for large and second-floor projects. It certifies that the plans will be safe and that no one will fall through the floor or have the roof fall in on their heads.
Owner Built Design can tell you when an extra structural signature is needed and provide the architect or engineer in question to get you past this hurdle.
Building Permit Processing
Finally, you don't have to face down the multi-headed beast of bureaucratic processing by yourself. Whether you're owner-building the project yourself or working with our custom construction team, we can help you get your building plans processed into building permits while you focus on what you care most about: getting all the little non-structural details just right.
Making Your Hawaii Residential Design a Reality
Are you planning a Hawaii residential construction or renovation project? Even if it's just an idea floating around in your mind, it's never too early to start moving the ball forward and making your dream a reality. And here at Owner Built Design, we are proud to help Hawaiian homeowners along every step of the way.
For more insights on custom home building, Hawaiian residential design, or a consultation on your own personal vision, contact us today!